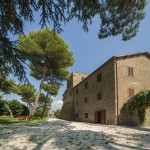 "La Commenda" is an historical residence from the 12th century, situated in the heart of the Tuscia area, a few kilometres from Montefiascone and Lake Bolsena.
Immersed in a 5 acre park, full of centuries-old trees, olive groves and vineyards, this prestigious residence is the ideal place to spend a relaxing vacation.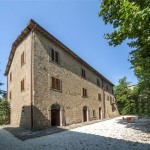 You can stroll through the vast garden in the shade of cypresses, holly oaks and pines.
You will discover the colours of Icterina Sage, as well as the fragrances of helichrysum and lemon thyme while wandering among the herbs of our botanical garden.
In the evening, enjoy meals skilfully prepared by our chef or taste a pizza under the stars while listening to the chirping of cicadas.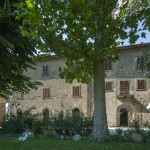 The natural conclusion to your extraordinary day in the medieval village, you too can fall asleep in a place where Pope  Paul III, Giulia Farnese and Doria Pamphili found rest.
"La Commenda" is also an ideal starting point to reach the many places of archaeological and artistic interest of the Tuscia region.